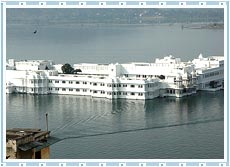 Udaipur Palaces and Monuments are renowned for their artistic architecture. The superb architecture of these monuments boasts about the rich taste of the Royalty. The Royal kings built massive palaces and monuments for their comfort, but today these monuments have become a testimonial of the bygone era. The imperial legacy of the ancestral kings, in the form of these monuments, attracts tourists from all over the globe. The noble Kings were inclined towards beauty and to fulfill their passion, they built lavish structures. Raised in the picturesque surroundings of Udaipur, these monuments are worth spending a few moments with your loved ones.
Many Palaces of the Imperial age have been converted into heritage hotels to offer the same luxurious comfort that used to be the part of the majestic lifestyle. Lake Palace, City Palace and Jag Mandir Palace are the major Palaces of Udaipur, famous for their outstanding architecture. Besides this, Bagore Ki Haveli is another structure that has been preserved to a great extent. The monument of Maharana Pratap Memorial is famous for its life-size statue of Pratap Singh. In this section, we will discuss in detail about these monuments and palaces that are unquestionably tour de force of Udaipur.
Bagore Ki Haveli
Bagore Ki Haveli is an ancient building that stands on the platform of Gangori Ghat in the vicinity of Pichola Lake. The splendid architecture of the mansion boasts of delicate carved work and excellent glass work. In the eighteenth century, Bagore Ki Haveli was built by Amir Chand Badwa,
City Palace Udaipur
Udaipur City Palace is one of the architectural marvels of Rajasthan, located peacefully on the banks of Lake Pichola. This majestic City Palace is the most-visited tourist attraction of Udaipur and often distinguished as the largest palace complex in Rajasthan.
Lake Palace Udaipur
Udaipur Lake Palace is one of the most romantic places on this earth. The Palace situated amidst the scenic Pichola Lake offers a heavenly view to the onlooker. The imposing Aravalli Hills on one side and soaring palaces on the other, make the perfect background to this beautiful Lake Palace.
Jag Mandir Palace
Jag Mandir Palace is a beautiful palace located on the southern island of Lake Pichola. The three-storied Palace is a palatial structure made in yellow sandstone and marble. Built in early years of 17th century, Jag Mandir Palace was raised by Maharana Karan Singh to serve as a hiding place for Prince Khurram (popularly known as Shah Jahan).
Maharana Pratap Memorial
Maharana Pratap Memorial is a historic site that is dedicated to the gallant Maharana Pratap. Situated at the top of Moti Margi or Pearl Hill, the memorial overlooks the Fateh Sagar Lake. In Hindi, memorial is known as "smarak" and smarak is always made in the memory of loved ones.