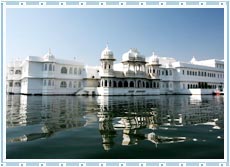 Udaipur Lake Palace is one of the most romantic places on this earth. The Palace situated amidst the scenic Pichola Lake offers a heavenly view to the onlooker. The imposing Aravalli Hills on one side and soaring palaces on the other, make the perfect background to this beautiful Lake Palace. Raised in white marble, Lake Palace was constructed by Maharana Jai Singh II in 1746. The magnificent Palace stretches across a four-acre island creating a dream-like impression.
Originally, the Palace was named as Jag Niwas after the name of the Maharana. In the present times, it is popular by the name of Lake Palace. Jag Niwas was conceived in the mind to offer a summer resort to the royalty of Udaipur. In the later years, the Palace was used as the summer resort by the descendants of Jagat Singh. The amazing exteriors would make you crave to peep once inside the beautiful Lake Palace. On entering this astonishing Palace, you would feel that you are in the seventh heaven to find everything just perfect.
The wonderful architecture of the Lake Palace will send shivers down your spine. Lake Palace has a series of courtyards that are aligned with numerous columns, terraces, beautiful fountains and well laid gardens. Lake Palace also comprises several rooms by the name of Bada Mahal, Khush Mahal, Ajjan Niwas, Phool Mahal and Dhola Mahal that add to the beauty of graceful palace. These exotic rooms are decked with carved arches, paintings, crystal work, stained glass work, inland stones of pink and green lotus leaves.
In the last few years, this palace has been transformed into a hotel that is managed by Taj Group of Hotels. This five-star hotel provides world-class amenities with immaculate hospitality to its guests. However, you can visit this palace without any hitch. The beauty of this breathtaking Palace cannot be bounded in words. Simply, a glimpse of this Palace will enthrall you by its charm. It is the perfect place to lighten up and feel relaxed with the serene view of tranquil waters of Lake Pichola. So, pack your bags to visit this superb romantic palace of the World.