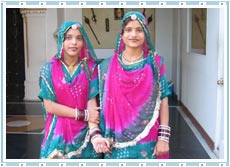 Udaipur is situated with the backdrop of Aravalli hills and the beautiful lakes add a tint of romance to this scene. The city of Udaipur has an appeal, one of its own kinds. When you have planned to visit this city, it becomes of vital importance to know the dressing style of Udaipur. However, there is nothing special about what to wear in Udaipur. The only required thing for an individual is to be clothed in a decent style to avoid the uncalled attention. In the modern times, inhabitants of Udaipur prefer dressing in a casual manner.
Considering the weather in mind, Udaipur is sited amidst the lakes in Rajasthan. Being a desert land, Rajasthan observes extreme type of climate and Udaipur, being situated in a desert land and that too with lakes, observes tropical climate. The weather is usually humid and sticky. So, light cotton clothes are preferable in Udaipur. If you are going in summers or monsoons, you can take comfortable cotton based clothes that can absorb sweat and dried up easily.
If touring in winters, you can take light woolens along with to cope up with the weather of Udaipur. The traditional dress of Rajasthani men is angarakha (an upper garment) and dhoti or pajama (a lower garment) for men. For women, kurti or top and a Ghaghra (skirt) make their dress, yet it is not compulsory to wear the conventional dresses of Rajasthan in Udaipur. You can always wear decent attire of modern times, which is totally endurable in the city of Udaipur.