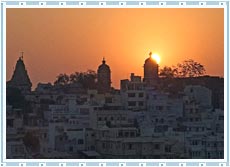 Udaipur city has particularly a tropical climate. The three main seasons, summer, monsoon and winter respectively, dominate the city of Udaipur. Situated at an altitude of 598m above sea level, moreover in a desert area, Udaipur has sultry type of Climate. However, Udaipur is the only place in Rajasthan that has quite moderate climate throughout the year. In summers, the scorching sun makes the city hot whereas in winters the weather is pleasant.
Being located in the desert lands of Rajasthan, the climate and weather of Udaipur is usually hot. The summer season runs from Mid-March to June and touches the temperature of 38°C. Monsoons arrive in the month of July heralded by dust and thunderstorms. The city annually receives around 637 mm of rainfall. This scanty amount of rainfall makes Udaipur more humid. The humidity reaches to the extent of 90 % during the months of Monsoons.
In Udaipur, winters are comparatively cooler than summers but not cold at all. The winter season prevails from the month of October till the month of March. Humidity, which prevails during monsoons, diminishes at the arrival of winters. The city observes pleasant sunny days and enjoyable cool nights. The temperature falls to the level of 11.6°C in the nights. Though, the temperature remains moderate throughout the year in Udaipur, still it is preferable to visit the city during winters, when the weather is pleasant neither hot nor humid, unlike summers and monsoons.