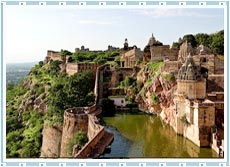 The imperial history of Mewar looks still alive in the forts of Udaipur. The Forts around Udaipur boast about the legends of glorious past. These ancient forts had witnessed the great battles of Mewar. The huge forts had served the Royalty of Mewar. In the present day, the fort stands as the quintessence of the sovereigns of the erstwhile age. These ancestral structures are made of solid foundations that have resisted the weather, cyclones and earthquakes since centuries.
Chittorgarh Fort and Kumbhalgarh Fort are the prominent forts that are located near Udaipur. Once these forts were part of the Royal kingdom, but today people from all over the globe come to visit these invaluable structures of Rajasthan, India. The magnificent architecture and splendid work of these forts are worth-seeing. Undoubtedly, you would be left wondering about the glorious days of the majestic Kings. Fetch more information about the forts of Udaipur from the following links:
Kumbhalgarh Fort
Kumbhalgarh Fort is the second most important fort of Rajasthan after Chittorgarh. Located at a distance of 64 kms from Udaipur in Rajasmand district, Kumbhalgarh Fort is easily accessible from the city of Udaipur. This unconquerable fortress is secured under the kind protection of the Aravali ranges.
Chittorgarh Fort
Chittorgarh Fort has received the credit of being the largest fort of India. The massive fort is located on a high hill near the Gambheri River in Chittorgarh. Chittorgarh Fort lies at a distance of 112 kms from the city of Udaipur in Rajasthan. This fort was built by various Maurya rulers in the 7th century. This huge fort covers an area of 700 acres, extending to 3 kms in length and 13 kms in peripheral length.