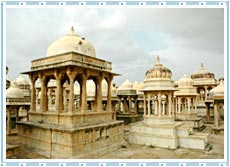 Udaipur is a city that has almost every type of place to make it a perfect destination for a vacation. A trip to the famous Lake Palace, Jag Niwas Palace, Lake Pichola, Museums and Gardens of Udaipur, can be further broadened by adding the excursions in your itinerary. There are numerous tourist excursions around Udaipur that are worth-visiting and spending a quality time. Being situated amidst the Aravalli hills, Udaipur offers various places to see that are accessible easily through the crisscross roads of Aravallis.
You can visit various temples like Ranakpur Temple, Jagat Temple, Nathdwara Temple and other temples that are located at a comfortable distance from the city of Udaipur. Chittorgarh Fort is the largest fort of India and finds its easy way from Udaipur. A visit to Kumbhalgarh Fort would be truly exciting as the fort possess the second longest wall of the World. These topics are covered under the sections of temples and forts respectively. Apart from temples and forts, you can visit Haldighati, Nagda, Ghanerao Castle and Ahar Cenotaphs from Udaipur.
Haldighati is a historic site that has occupied an important position in the history of Rajasthan, India. If you are a wild-life lover, then Kumbhalgarh Wildlife Sanctuary would definitely be of your interest. Cenotaphs of Ahar still speak the legends of the brave and gallant kings of Mewar. A trip to Ghanerao Castle would make you spellbound with its magical charm. Nagda is a famous site that is renowned for its Sas-Bahu temple that dates back to the 10th century. The following links will throw light on excursions from Udaipur:
Haldighati
Haldighati is an important historical site in the context of Rajasthan, India. Actually, Haldighati is a mountain pass in the Aravalli range connecting districts of Rajsamand and Pali in Rajasthan. The place is at a comfortable distance of 40 kms from the city of Udaipur.
Ahar Cenotaphs
Ahar is a small town in the Udaipur district of Rajasthan. The place is famous for being the cremation ground of the rulers of Mewar. Today, Ahar is also renowned as an archeological site that offers interesting facts to archaeologists and research scholars.
Ghanerao Castle
Ghanerao Castle is a beautiful castle that cherishes the dream of fairyland on the Earth. The Royal Castle is located in Ghanerao, a small town located at a distance of 140 kms from the city of Udaipur. Ghanerao Castle offers a magical insight to the lavish lifestyle of the erstwhile Royalty.
Kumbhalgarh Wildlife Sanctuary
Kumbhalgarh Wildlife Sanctuary is a major attraction for the tourists coming to Udaipur. This Sanctuary falls under the Rajsamand district of Rajasthan. Kumbhalgarh Park lies at a distance of 65 kms from Udaipur on Udaipur - Pali - Jodhpur road.
Nagda Town
Nagda is a small town in the Indian state of Madhya Pradesh. In the 6th century, Nagda was found by Nagaditya, the fourth Mewar King. Initially it was known as Nagahrida and served as the capital of Mewar. Before long, the place came under the province of Sisodias.