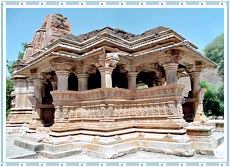 Nagda is a small town in the Indian state of Rajasthan. In the 6th century, Nagda was found by Nagaditya, the fourth Mewar King. Initially it was known as Nagahrida and served as the capital of Mewar. Before long, the place came under the province of Sisodias. Nagda is located besides Bagela Lake at a distance of 23 kms in the north-west of Udaipur on the way to Nathdwara. Nagda comprises many small and big temples, but the main attraction is gained by its 'Sas-Bahu' temple.
Nagda is actually famous for this unusual temple that dates back to the 10th century. The term 'Sas-Bahu' suggests 'Mother-in-law and Daughter-in-law' respectively. The temple is dedicated to Lord Vishnu and it is made in two structures, one by a mother-in-law and another, by a daughter-in-law. The main entrance to the temples is made through a door that has carved lintels and a multi-lobed arch in its middle. Both the structures are laid out on a same plan having an altar, a mandapa (columned prayer hall) with projections and a porch.
The temple of Sas is comparatively larger than that of the Bahu. The 'Bahu' temple has an octagonal ceiling, which is adorned with beautifully carved eight intricate female figures. The 'Sas' temple has a torana (archway) in its front and it is believed that the image of the Lord Vishnu was swung from the torana along with hymns in the praise of lord on ceremonial occasions. Both the temples are constructed on a common platform facing towards the east direction. The temple is accredited for having wonderful carvings.
These delicate carvings are acknowledged to be imbibed from the incidents of 'Ramayana' (the Indian epic). The walls of the shrine are usually plain and not engrossed with much work, but the projection is simply mind blowing with its exquisite sculptures. The sculptures are made in two steps, one encircling the other. On the first step, images of Lord Brahma, Shiva and Vishnu are carved and on the other, there are images of Rama, Balarama and Parashurama.
Another temple that captures attention is Jain temple. Dedicated to the Jain Saint Shanti Nath, the temple is said to have been built during the rule of Rana Kumbha. The temple has a strange idol and that how the temple got its name ('Adbhut' means strange). This strange idol of 9 feet in height is an attraction for people. These temples were destroyed by the foreign invaders to a large extent, still they boast of their exceptional artistic architecture. People usually visit these ancient temples of Nagda to get the blessings from the Lord.