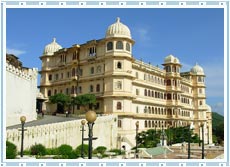 Udaipur is a majestic city that presents artifacts of the bygone age by the means of museums. These museums peep into the ancient times of the imperial city. If you have planned to come to the city of Udaipur, then take out some time to visit the art museums of Udaipur. These museums are made to preserve the priceless objects of the noble kings. Various museums of Udaipur offer a glimpse of the items that used to be the part of the regal lifestyle. Udaipur Government is making constant efforts to preserve the artifacts of the previous age. If you are keen to know about the glorious past, these museums would be of great interest for you.
City Palace Museum is one the popular museums of Udaipur, revealing the work of art. Ahar Archeological Museum is another museum possessing the antiques that dates back to the 10th century. We have discussed this museum in our article of Ahar under the section of Excursions. Museum at Gulab Bagh is one more museum that is covered under the article of Gulab Bagh. Even, the famous Bagore Ki Haveli has a museum, where you can trace the paintings and sculptures of the former age. Bhartiya Lok Kala Mandal is a genuine effort to keep the arts and crafts alive. Know more about these museums in detail in the following articles.
Bhartiya Lok Kala Museum
Bhartiya Lok Kala Museum is one of the most famous museums of Udaipur, exhibiting the brilliant collection of folk articles of Rajasthan. This rare compilation varies from typical rural-dresses, ornaments, puppets, masks, dolls, folk musical instruments, folk deities and paintings.
City Palace Museum
City Palace Museum has a remarkable collection of ancient sculptures, curios, antiques and inscriptions of the bygone era. Located inside the complex of City Palace, this museum is also known as Pratap Museum. As you enter the City Palace, the straight way will take you to this museum of artifacts.