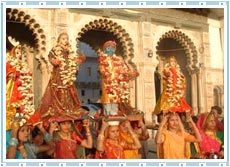 Rajasthan is famous for its colorful festivals and vibrant fairs. Being part of Rajasthan, the city of Udaipur celebrates all the fairs and festivals with equal fervor. Each and every city of Rajasthan observes one or the other festival that is particularly associated with that city. The important fairs and festivals that are closely associated with Udaipur are Mewar Festival and the Shilpgram Fair. If you want to catch the vigor of these desert people, catch them during their famous fairs and festivals. This would help you to imbibe how charming these people are.
A glimpse of their celebrations would make you dance at the tunes of their music. Mewar Festival is celebrated consequently with the celebrations of Gangaur festival in Jaipur. The festival has its own religious importance and is celebrated with enthusiasm in Udaipur. Talking about Shilpgram Fair, it is another fair that is organized to promote art and crafts of Rajasthan. If you want to be a part of these festivals, plan your trip during the gala time of Udaipur. Once seen, these fairs and festivals would become an unforgettable part of your memories. The following links would help you to grab more on this topic:
Mewar Festival
Mewar festival is observed to welcome the arrival of spring season with all zest and dedication in Udaipur, Rajasthan. The spirit of the festival can be seen throughout the state of Rajasthan, since Udaipur has been always the governing place of the Mewar rulers, you will find its exact flavor in the city of Udaipur.
Shilpgram Crafts Fair
Shilpgram Mela is held annually in the west of the city of Udaipur. Shilpgram Crafts Fair is organized to promote art and craft of Rajasthan. Since, Rajasthan has always been famous for its handicrafts and artwork; this fair is a perfect destination to try out the hand woven clothes, embroideries, mirror works and handicrafts.