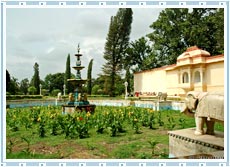 Udaipur, the city of lakes, is also known as the garden city of Rajasthan. This romantic city, with the backdrop of picturesque lakes and lush green gardens, appeals to the aesthetic sense of any spectator. The very name of garden brings a sense of relief in the era of concrete jungles. In the bygone ages, the rulers of Udaipur designed a few gardens & parks to remain close with nature and serenity. The city of Udaipur boasts of several gardens that are truly a green retreat in the dry lands of Rajasthan.
The lakes and tropical climate of Udaipur city make it possible to generate gardens here. Gulab Bagh or Sajjan Niwas Garden is a fabulous garden full of unusual rose flowers. Nehru Island Park is outlined as an island in the Fateh Sagar Lake. Saheliyo ki Bari was constructed with a different concept and was meant for the pleasure of royal ladies. Guru Govind Singh Park (Rock Garden) offers a captivating view of the golden sky. As the Sun hides behind the Aravalli hills, one can observe the flickering Fateh Sagar Lake.
Aravali Vatika, Meera Park, Manikya Lal Verma Park, Nehru Municipal Children's Park, Pandit Deen Dayal Upadyaya Park and Moti Magri Park are some other interesting parks of Udaipur. Moti Magri Park and Manikya Lal Verma Park are famous for their sun-set views. Read more about the gardens & parks of Udaipur in the following sub-sections:
Gulab Bagh / Sajjan Niwas Garden
Sajjan Niwas Garden is the largest garden of Rajasthan, sprawled over 100 acres of land. During 1850's, Maharana Sajjan Singh took the initiative to built this beautiful garden. Sajjan Niwas Bagh is celebrated for its numerous varieties of roses. Due to abundance of rose flowers, this garden is also known as Gulab Bagh or Rose Garden.
Saheliyon-Ki-Bari
Saheliyon Ki Bari is one the most beautiful gardens and a major tourist destination in Udaipur. The garden is famous for its lush green lawns, marble art and fountains. English translation of Saheliyon Ki Bari means "Garden of maids". This renowned garden is located on the banks of Fateh Sagar Lake, presenting a green retreat in the dry lands of Rajasthan.
Nehru Island Garden
This oval shaped island garden is situated amidst the Fateh Sagar Lake. In order to reach this romantic garden, you have to take a boat ride in the lake. The lush green garden with its water fountains, flower gardens and a lily pond offers truly an eye-soothing view for any observer. The garden also comprises a restaurant where you can enjoy the lip-smacking dishes along with the scenery of green Aravalli hills.