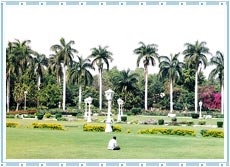 Sajjan Niwas Garden is the largest garden of Rajasthan, sprawled over 100 acres of land. During 1850's, Maharana Sajjan Singh took the initiative to built this beautiful garden. Sajjan Niwas Bagh is celebrated for its numerous varieties of roses. Due to abundance of rose flowers, this garden is also known as Gulab Bagh or Rose Garden. Situated right beneath the banks of Pichola Lake on Lake Palace Road, Gulab Bagh is an interesting park in the southeast of City Palace complex.
Innumerable array of roses, which are not common in the lands of India, makes the garden different from others. The arrangement of flower beds forms the highlight of this garden. Gulab Bagh is a peaceful garden, a virtual forest of flowers, on the rim of the city area. Residents of Udaipur usually visit this place to relax and enjoy the natural beauty of this beautiful garden. If you love nature and want to observe it closely, Rose Garden is the best way to explore nature's splendor.
The soothing vistas with unusual rose beds, robust trees, orchids and spacious lawns leave any visitor in a delusion. While you are enjoying this beautiful scenery, you can leave your kids to enjoy their much loved amusement. It is a toy train in the premises of the garden that would be cherished by your child. The garden also comprises a small zoo that has number of animals like chinkara, leopards, tigers and birds.
Apart from the natural beauty, Sajjan Nivas Garden has something more to offer you. It is a library that was constructed by Maharana Fateh Singh. The Library is known as Saraswati Bhawan Library. This library houses books related to history, archaeology, Indology and several manuscripts that date back to the early medieval period. Gulab Bagh also encompasses a museum, which was originally known as Victoria Hall Museum. It is famous for its collection of antiques, curios, royal household items and other interesting relics from the past.
Once, this beautiful garden was regarded as one of the largest urban parks in India. Till date, the garden has not lost its charm. Tourists from all over come to visit this spectacular park of 19th century. It is actually a paradisiacal pleasure and one of the best gardens of Udaipur, Rajasthan.