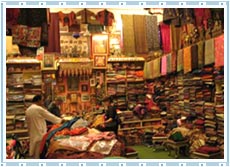 Udaipur is mostly known for its vibrant lakes and temples. Being a part of Rajasthan, Udaipur has the tints of bright colors and you can certainly find these colors in its lively markets. One can experience the markets of Udaipur to get the best deals and capturing the most of Rajasthan. Udaipur has myriad number of small shops, big showrooms and roadside stalls that would offer you an extensive variety to choose from.
While passing through the markets of Udaipur, you would trace many articles that can make part of your wardrobe and lifestyle too. These markets present an assortment of items covering handicrafts, pottery, jewelry, wooden toys, antique items and paintings. Udaipur is particularly famous for its miniature paintings inspired by style of Rajputs & Mughals.
Like the whole of Rajasthan, Udaipur offers the exquisite variety of handicrafts. They may range from toys, bewitching puppets, wall hangings, pen stands, cloth lanterns, handmade papers, painted wooden box to Greeting cards. Udaipur has an assortment pottery too that can be availed in both metal and mud. Pottery covers all kings of pots, plates, vessels and different kinds of containers. Apart from this, brassware and terracotta sculptures are also popular.
Regarding clothes, you can grab traditional clothes colored in batik and hand prints. Dyed saris and textile also forms the major part of clothing. Talking about jewelry, you can buy precious stones, kundan and silver jewelry to match your elegant taste of ornamentation. If you are roaming around the streets of City Palace, you will find ethnic miniature paintings that are made in the creative style of the Mewar School of Art.
By now, you must have been definitely inspired by the Mewar culture and to keep this inspiration active, you can buy the Pichwai paintings. These paintings are almost synonymous to the taste of Mewar rulers. Initially, these paintings were made in bright colors and used to make the background for images of Lord Krishna. These paintings are available on silk, wood, marble, paper and Ivory. Today, Pichwai paintings grace the drawing rooms of people with their modern touch.
Coming to the shopping places, Hathi Pol, Bada Bazaar, Chetak Circle, Bada Bazaar and Palace Road are some of the popular shopping arcades of Udaipur. While shopping in these markets, don't forget to bargain with the shopkeepers to get the value of your money. If you are running short of time to explore the markets, the Government of Rajasthan has made adequate arrangements for you.
Rajasthali and Sadhna are two government emporiums that offer all the products under a single roof. Here you will get the quality product at a fixed price. However, the real charm of shopping comes in exploring the streets of Udaipur bargaining with the local vendors. So, while touring Udaipur take out some time to shop in the vibrant markets of Udaipur.
After exploring the markets of Udaipur, if you feel that you have left out something that you ought to buy before leaving the city, then you may log in to the online shopping portals. Online shopping and gifting websites provide a wide range of items; you may buy and
send gifts to Udaipur
to your loved ones. Such online shopping websites provide you a wide range of collectibles, clothing, fashion accessories, gift baskets, gadgets and gizmos and many more.