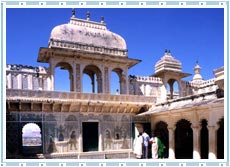 Udaipur is a royal city that had been the capital of Mewar rulers for centuries. The romantic city of Udaipur has a legend behind its origin and it goes like this. Once, Maharana Udai Singh happened to meet a holy sage when he was on his hunting expedition in the Aravalli Hills. The Sage counseled the King to establish a kingdom in the fertile valley that would be well-protected by the elevated Aravalli Hills. Subsequently, Maharana Udai Singh laid the foundation stone of Udaipur in 1557 A.D.
Chittorgarh was the previous capital of the Rajput kingdom of Mewar. Maharana Udai Singh was a successor of the Sisodias, who claimed to be the descendants of the Sun God. The Sisodias are believed to be the oldest ruling family in the World. Amongst the warrior clans, Sisodias are recognized as the most powerful ones in Rajasthan. Another reason for shifting the capital from Chittorgarh to Udaipur was constant attacks of enemies.
In 1568, Chittor was attacked by the Mughal emperor, Akbar and to ward off this danger, Udai Singh shifted the whole kingdom to Udaipur. Udaipur was naturally safe under the fortifications made by Aravalli Hills. Since that time, Udaipur developed into a full-fledged city. Slowly when the Mughal Empire undermined, the Sisodias reasserted their freedom. They recaptured most of the parts of Mewar with the exception of the Chittorgarh Fort.
Udaipur continued to be the capital of Mewar, till it became the princely state of British India in 1818. When India got independent in 1947, the Maharaja of Udaipur granted the place to the Government of India. At that time, Mewar was merged into the state of Rajasthan. In the present date, Udaipur enjoys a favorable position on the maps of Rajasthan. Udaipur is known for its picturesque surroundings and its royal past. Various ancient monuments, massive palaces, architectural temples and beautiful lakes fascinate people to visit the ancient land of the Royalty.