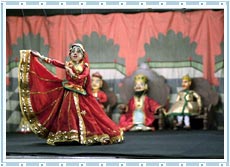 Udaipur is a city of royal charm with its splendid style of entertainment and recreation. Since the city has been the home of the Royalty, the methods of leisure are distinctly imperial. Entertainment in Udaipur doesn't match the tune of Discos and parties of the metropolitan cities. The dwellers of this city have their own manner to enjoy and unwind themselves. People seek pleasure in listening folk music, enjoying puppet shows, camel safaris and traditional dances.
Puppet shows make the best part of Udaipur recreation. Being an inseparable aspect of Rajasthani culture, Puppet shows of Udaipur are really captivating. These shows are arranged by the Hotels to entertain their guests during their stay. Otherwise, you can always go to Bharatiya Lok Kala Museum to enjoy the exclusive puppet show in the evenings. The puppets attract people with their innocent faces, bright colored dresses, and dazzling jewelry.
These shows have certain themes, based on ancient stories. Sometimes, they convey a social message to make people aware about the pros and cons of situation in a humorous manner. Tourists love to watch these shows that depict the culture and traditional art of Rajasthan. Camel Safari is another feature of entertainment in Udaipur and would be really a memorable experience for you. Tourists usually enjoy this unusual ride mounting on the back of camels roaming in the deserts of Rajasthan.
The adventurous Camel Safari will acquire your one whole day. In this expedition, you will start from a definite point in the city and get into the interiors of the desert. If you want to meet the tribals, you can encounter them on your journey. During your trip, you need not to worry about your food as our tour operators would arrange for your breakfast and lunch. Your can enjoy the beauty of lofty lakes, architectural temples, majestic forts and palaces of Udaipur.
People who are fond of shopping would get pleasure in the markets of Udaipur, but if you are wandering in the same streets then you can try the theatres showing current movies. You can make a move to Chetak and Swapnalok theatre that are located near Chetak Circle. Other options could be Ashoka theatre and Picture Palace in Surajpol. The city of Udaipur doesn't observe active nightlife, but yes you can trace various pubs and bars that would serve you quality liquor in the finest manner.