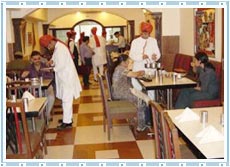 Udaipur had once been land of Sisodia Rajputs. Being part of Mewar region, certain expectations regarding the cuisine of Udaipur is reasonable. Udaipur used to make one of the best kitchens for the Royal Monarchs. The city still serves the finest food to its dwellers and tourists. If you are planning to visit this beautiful city of lakes, there is no need to worry about your meals, since the city has numerous restaurants. Many a restaurants dish up various cuisines, so there is no need ponder about what to eat.
Influenced by Vaishnavism, Udaipur cuisine is debarred of non-vegetarian dishes. Udaipur is famous for its Dal-Baati-Churma, Gatte-Ki-Sabzi, Kachori and Mirchi Bada. Meals are usually comprised of lentils, vegetables and a fantastic variety of spices. Lentil curries, yoghurt soups with deep fried breads and chilli fritters make the favorite feast. Ocra, dried mango and Sangri (beans) go together with most of the meals.
However, this is not a constraint for people who love non-vegetarian food as there are many restaurants that serve non-vegetarian food. People, who are not very keen to try the cuisine of Udaipur, there are plenty of restaurants that dole out special cuisines ranging from Chinese and Thai to Intercontinental and Italian food. If fast food is your choice, you will find variety of patties, pastries, sandwiches, pizzas, Indian chat etc to satisfy your taste buds.
Fond of eating and don't want to do self-service? Udaipur has many eateries that serve thali (platter) and you can enjoy the unlimited servings of a selection of Rajasthani dishes including chapattis, daals, vegetables, rice, sweets and many more. Among the various restaurants, Ambrai is a nice restaurant to relax near the Pichhola Lake. Natraj and Bawarchi are other popular restaurants that serve Rajasthani cuisine. Paratha Hut is famous for its lip-smacking parathas (breads). Here is presented a list of restaurants in Udaipur:
List of Restaurants in Udaipur
Rajasthani and Indian