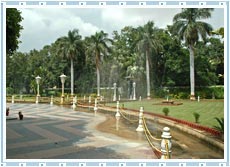 Saheliyon Ki Bari is one the most beautiful gardens and a major tourist destination in Udaipur. The garden is famous for its lush green lawns, marble art and fountains. English translation of Saheliyon Ki Bari means "Garden of maids". This renowned garden is located on the banks of Fateh Sagar Lake, presenting a green retreat in the dry lands of Rajasthan. Garden of maids was built in the 18th century by Maharana Sangram Singh for the royal ladies.
As per the legends, the garden was designed by the king himself and he presented this garden to his queen. Actually, the Queen was accompanied by 48 maids in her marriage. To offer all of them, pleasurable moments away from the political intrigues of the court, this garden was made. This patterned garden used to be the popular relaxing spot of the royal ladies. The queen with her maids and female companions used to come here for a stroll and spend their time in leisure.
Due to this fact, the garden got its name. The superb architecture of the garden provides a breath-taking view to any observer. The garden is embellished with numerous fountains in its four water pools, chiseled kiosks and marble elephants. It is also celebrated for its lotus pool and bird-fountains. The lush green lawns, flowerbeds, and marble pavilions further enhance the romantic ambience of this magnificent garden.
In the later years, Maharana Bhopal Singh really liked this place and built a pavilion of rain fountains. The thought was to form an illusion of rain dancing in cadence with dancing maids. The Kings used to enjoy around the pools and fountains of this garden. These fountains were imported from England and you can trace them along with the main reservoir of the garden. The main reservoir has four black marbled kiosks in its corners and one white marbled kiosk in its center. On the top of kiosks, these fountains are in the form of sculpted birds that spurts water from their beaks producing the rain effect.
The museum exhibiting the huge collection of royal households is another attraction of this garden. It has many ancient pictures and things of the bygone period. Sight of stuffed cobras and other animals will definitely add a tint of adventure to your trip. Above all, you can stroll through the shady lawns, where the bunch of bougainvillea will bend down to greet you. Today, Saheliyon ki Bari has become the pleasure park for the recreation of Udaipur dwellers.
Garden of Maids is actually a place to visit by any visitor to this city. The crystalloid fountains, lotus pool, marbled elephants sprinkling water and many more attractions provide truly a picturesque sight to behold.