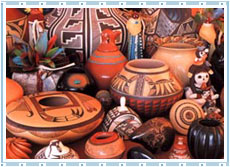 Shilpgram Mela is held annually in the west of the city of Udaipur. Shilpgram Crafts Fair is organized to promote art and craft of Rajasthan. Since, Rajasthan has always been famous for its handicrafts and artwork; this fair is a perfect destination to try out the hand woven clothes, embroideries, mirror works and handicrafts. The hand woven clothes and camel leather items grab the major attention of visitors in this fair.
Shilpgram Crafts Mela aids in encouraging the urban potters, visual artists and designers too. If you are interested in learning the art and craft of Rajasthan, you can join the workshops that are structured to demonstrate the method. The art expertise of artists in Rajasthan acquires an imperative position in the cultural field of Rajasthan. Here, one can have a glimpse of the life style of weavers and local artists that is portrayed through pictures in the stalls. This is actually done to make people aware about the condition of artists.
In the Shilpgram fair, a program is organized by the name of Shilpdarshan. This program is arranged to reveal the skills of traditional performing artists and sell their goods. While strolling in the fair, you will also come across the Craft Bazaar where numerous works are displayed for sale. Here, you can get the best deals of Rajasthani handicrafts. You can also buy things for your relatives and friends as souvenirs.
The fair was conceived in the mind with an idea to encourage the cottage industry of Rajasthan. Being a desert land, Rajasthan is deprived of grown agriculture and tourism has been the main source of its income. Keeping this money-making part aside, Rajasthan Government wants to make this rustic art famous on a global level. Through this fair, the local artists get a stage to show their creations not just in front of domestic but the international tourists as well.
Winter season is considered as the best time to visit Udaipur and this fair is arranged with the due regard to that point. This fair continues for ten days in the months of November / December. During this season, Udaipur receives maximum number of tourists and people enjoy this fair to its most exploring the craft of Rajasthan.
While you would shop and explore handicrafts, various musicians and dancers will entertain you with their respective arts. Shilpgram Crafts Mela is certainly a sincere effort to give recognition to the local arts of remote villages of Rajasthan. Your visit to this fair would definitely allure you towards the ethnic rural arts and crafts.