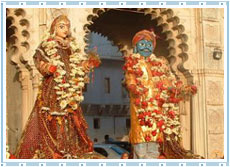 Mewar festival is observed to welcome the arrival of spring season with all zest and dedication in Udaipur, Rajasthan. The spirit of the festival can be seen throughout the state of Rajasthan, since Udaipur has been always the governing place of the Mewar rulers, you will find its exact flavor in the city of Udaipur. Mewar Festival of Udaipur is a major festival of Rajasthan and is famous all over India for its liveliness.
During the days of festival, the whole city of Udaipur gets drenched in colors of festivity. Local markets and shops beautify their frontage with bright lights and decorations. Coinciding with the Gangaur festival, Mewar festival is equally significant for the womenfolk of Rajasthan. The festival is especially meant for women and offers the best time when they dress in their finest clothes and join the celebrations of the fest.
To conduct the ceremony, women assemble to dress the images of Isar (Lord Shiva) and Gangaur (Goddess Parvati). After dressing the idols, they carry them in a traditional procession passing through different parts of the city. In the last, the procession makes its move towards the Gangaur Ghat at Pichola Lake. At this point, the images are transported into special boats and immersed in the deep waters of the lake.
When this religious part gets over, people engage into various dances, songs and other cultural events revealing the culture of Rajasthan. Mewar festival is concluded with a glittering show of fireworks. Mewar festival spreads a feel of gusto and fervor all over Rajasthan and people enjoy this festival to its full. This bright and colorful festival attracts tourists from all over to join its charming ceremony of tradition.