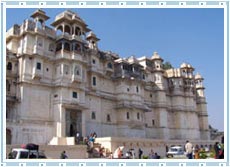 Bhartiya Lok Kala Museum is one of the most famous museums of Udaipur, exhibiting the brilliant collection of folk articles of Rajasthan. This rare compilation varies from typical rural-dresses, ornaments, puppets, masks, dolls, folk musical instruments, folk deities and paintings. The museum is comfortably located in the building of Bhartiya Lok Kala Mandal near Chetak Circle in Udaipur city.
Mewar region of Rajasthan is known for its rich art and culture. Actually, the local handicrafts and things of art of this region have always been cherished all over the world. With the intention to maintain this rich tradition, Bhartiya Lok Kala Mandal took the initiative, to start an institution, to encourage the local arts and crafts of Mewar. Bhartiya Lok Kala Museum is a part of their program that displays the best art and craft of Mewar.
As one enters the gateway of the museum, there is a hall displaying the theater objects. In the neighboring hall, you will trace a remarkable collection of tribal folk musical instruments and ornaments. Following this hall, you would reach to a puppet theater. You can actually watch a puppet show that occurs at regular intervals. On the opposite side of this theater, there are designs of henna handprints, decorated cow dung floors and terra-cotta devras (small shrines) that come from the village of Molela near Nathdwara.
The museum portrays the remarkable collection of over past 44 years, gathered by the Bhartiya Lok Kala Mandal. To provide a summarized idea of the folk heritage of India, traditional attires, ornaments, miniature paintings and many other art objects are displayed here. Bhartiya Lok Kala Museum of Udaipur definitely requires a visit to closely observe the artistic and culturally rich region of Rajasthan.