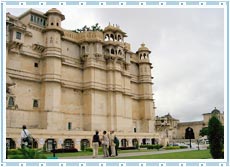 City Palace Museum has a remarkable collection of ancient sculptures, curios, antiques and inscriptions of the bygone era. Located inside the complex of City Palace, this museum is also known as Pratap Museum. As you enter the City Palace, the straight way will take you to this museum of artifacts. The entrance gate of the City Museum is known as Ganesh Deori, which means "Door of Lord Ganesha".
On entering the door, you will find yourself in a courtyard, which is identified as Rajya Angan (The Royal Courtyard). This is the exact place where Maharana Udai Singh was asked to construct a city by a sage. After crossing the courtyard, you will find the armory museum that exhibits a vast collection of protective gear, weapons including the fatal two-pronged sword. Pratap Museum houses the armor of the chivalrous Maharana Pratap. You can trace the drums and bugles of Rana Sanga too.
The museum has priceless possessions of the former age like antique paintings of Mewar and detailed Rajasthani art. Here, you will find an unusual assortment of coins, sculptures, inscriptions, portraits and wall-paintings. It also displays the turban of Khurram, who was popularly known as Emperor ShahJahan. The turban still depicts the friendship that survived between ShahJahan and Maharana Khazan Singh. City Palace Museum acquires a major part of the City Palace Complex.
In fact, the museum is divided into several pavilions and halls. Every pavilion has a distinct theme of its own. 'Zenana Mahal' is the main place where you can see arms and armor, paintings and photographs, majestic insignia, processional accouterments and various other objects that reveals the royal legacy and conventions of the Maharanas of Mewar and Sisodia. The museum is a perfect destination to trace the relics of the bygone era.