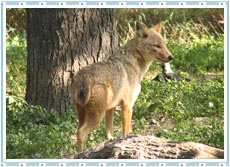 Kumbhalgarh Wildlife Sanctuary is a major attraction for the tourists coming to Udaipur. This Sanctuary falls under the Rajsamand district of Rajasthan. Kumbhalgarh Park lies at a distance of 65 kms from Udaipur on Udaipur - Pali - Jodhpur road. If you are a wild-life lover, this is a perfect place for you to visit. Sprawled in an area of 578 sq km, Kumbhalgarh Sanctuary encircles the massive fort of Kumbhalgarh. This wildlife park has imbibed its name from the same fort.
Broadening across the Aravalli Range, Kumbhalgarh sanctuary covers parts of Rajsamand, Udaipur and Pali districts. The sanctuary makes home to many endangered species of wild-life. The sanctuary provides natural abode to many creatures like Wolf, Leopards, Sloth bear, Hyena, jackal, Jungle cat, Sambhar, Nilgai, Chausingha (the four horned antelope), Chinkara and Hare. In fact, Kumbhalgarh is the only sanctuary of Rajasthan, where you can trace wolf engaged in its activities.
This sanctuary inhabits more than forty wolves in number. In the summers, one can easily find pack of wolves strolling around water sources in the sanctuary. If you find your interest in birds, then here you can see a nice variety of birds too. In the park, you can see Grey Jungle Fowl, which is usually inhibited. Peacocks and Doves also gain attention by their own charm. Apart from this, birds like Red Spur Owls, Parakeets, Golden Oriole, Bulbul, Dove, Grey Pigeons and White Breasted Kingfisher are traceable near the water holes.
Kumbhalgarh Sanctuary also enjoys a variety of flora including many trees and plants having herbal qualities. You can also take a safari trip to enjoy the natural habitat of these birds and animals. Every year, Kumbhalgarh draws many a tourists towards itself for its natural beauty. Moreover, Kumbhalgarh is easily accessible from the city of Udaipur. You can take the services of regular buses that start from Udaipur, if you are not interested for a bus ride, you can also hire private taxis to visit this sanctuary.