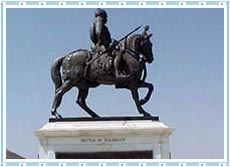 Maharana Pratap Memorial is a historic site that is dedicated to the gallant Maharana Pratap. Situated at the top of Moti Margi or Pearl Hill, the memorial overlooks the Fateh Sagar Lake. In Hindi, memorial is known as "smarak" and smarak is always made in the memory of loved ones. Maharana Pratap Memorial was constructed with the initiative taken by Maharana Bhagwat Singh Mewar with the help of a public trust.
The memorial comprises a life-sized bronze statue of Maharana Pratap balanced on his loyal and favorite horse, Chetak. It is believed that Chetak was a faithful horse. He was extremely protective towards Maharana Pratap and stood by his master till his last breath. Chetak was killed in the battle of Haldighati. People visit this memorial to pay their homage to the Rajput hero, Rana Pratap and his loyal mount 'Chetak'.
This outstanding statue has also been picturised for various Bollywood movies. If you are a photographer, then you will truly love this place. From the comfortable height of the hill, you can click some of the best pictures of Udaipur city. One can also visit the attractive Japanese Rock Garden and the remnants of one of the forts of Udaipur, which are located near this hill.