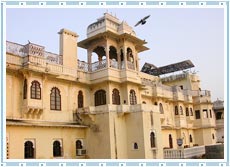 Bagore Ki Haveli is an ancient building that stands on the platform of Gangori Ghat in the vicinity of Pichola Lake. The splendid architecture of the mansion boasts of delicate carved work and excellent glass work. In the eighteenth century, Bagore Ki Haveli was built by Amir Chand Badwa, who was the Chief Minister at the Mewar Royal Court in earlier times. When Amar Badwa died, the building came under the possession of Mewar State.
In 1878, the Haveli made the abode to Maharana Shakti Singh of Bagore, who further incorporated three stories to the main structure. Since that time, the mansion came to be known as Bagore Ki Haveli (Mansion of Bagore). The mansion that used to serve the royalty of Mewar was left vacant for around 50 years. During this long period of desertion, the building deteriorated to an extent. In 1986, the building was handed over to the West Zone Cultural Centre (WZCC).
From the very beginning, the West Zone Cultural Centre planned to renovate the haveli into a museum. To provide this building the same royal look, experts and members of the Royal family were consulted. The Haveli was restored in its old architectural style and a museum was set up in its complex. This museum portrays the patrician culture of Mewar. It has conserved the premium mural paintings of Rajasthan designed in Mewar. The museum also displays the costumes of the royal kings and modern art.
Here, you can trace the exclusive stuff of Rajputs like jewellery boxes, dice-games, hukkas, pan boxes, nut crackers, hand fans, rose water sprinklers, copper vessels and other items of the erstwhile rulers. The Queen's Chamber showcases fascinating original paintings of Mewar. Beautiful peacocks created with small pieces of colored glass captivate the onlooker with sheer admiration. Today, this grand building has more than 100 rooms with well-arranged balconies, terraces, courtyards and corridors.
The interiors of the Haveli are embellished with intricate and fine mirror work. While strolling in the Haveli, you can also see the private quarters of the royal ladies, their bath rooms, dressing rooms, bed rooms, living rooms, worship rooms and recreation rooms. In the evening, the haveli lightens and stages enjoyable performance of traditional dance and music of Rajasthan. The haveli looks marvelous with glowing lights in the night. Bagore Ki Haveli is a perfect place to explore the ancient architecture and life style of the royal family.