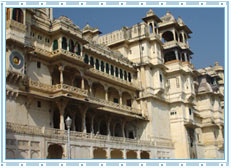 Udaipur City Palace is one of the architectural marvels of Rajasthan, located peacefully on the banks of Lake Pichola. This majestic City Palace is the most-visited tourist attraction of Udaipur and often distinguished as the largest palace complex in Rajasthan. Initially, Maharana Udai Singh built this superb wonder, but the present form of the Palace is the result of subsequent additions by his successors.
City Palace boasts of the wonderful blend of Medieval, European and Chinese Architecture. The Palace has various towers, domes and arches, which add to the flavor of heritage site. Towering on the banks of Pichola Lake, City Palace is truly a feast to the eyes. City Palace is a marvelous assortment of courtyards, pavilions, terraces, corridors, rooms and hanging gardens. Encircled by fortifications, this imposing Palace is wholly built in granite and marble.
City Palace has several gates that are known as "Pols". 'Bara Pol' (Great Gate) is the main gate to the City Palace complex that will take you to the first courtyard. On passing 'Bara Pol', you will come across a triple arched gate, which is known as 'Tripolia'. Between these two gates, you would see eight marble arches or Toranas, where Kings used to weigh themselves with gold and silver. Besides Tripolia, there is an arena where elephant fights were staged. Across 'Tripolia', you would enter the 'Elephant Gate' or the 'Hathi Pol'.
City Palace comprises 11 wonderful palaces, which were built by different rulers still they resemble each other. With the sheer glimpse of unique paintings, antique furniture and exquisite glass mirror & ornamental tiles work of these palaces, you will get amazed. Manak Mahal (Ruby Palace) has figures of crystal and porcelain. However, Bhim Vilas flaunts a fabulous collection of miniature paintings depicting the real life stories of Radha-Krishna.
The 'Krishna Vilas' is known for the noteworthy album of miniature paintings portraying royal processions, festivals and games of the Maharanas. Moti Mahal (Pearl Palace) is celebrated for its lavish decor while Sheesh Mahal (Palace of mirrors) is known for its breathtaking mirror work. 'Chini Chitrashala' is renowned for its Chinese and Dutch ornamental tiles. 'Dilkusha Mahal' (Palace of Joy) is known for the murals and wall paintings.
Bada Mahal is the exotic garden palace that stands erect on a 90 feet high natural rock formation. Rang Bhawan is the palace that used to contain royal treasure. There are temples of Lord Krishna, Meera Bai and Shiva, located right to the 'Rang Bhawan'. 'Mor Chowk' has exceptional glass mosaics of peacocks, set in the walls presenting the three seasons of summer, winter and monsoon. 'Laxmi Vilas Chowk' is an art gallery with a distinctive collection of Mewar paintings.
Situated in the premises of City Place complex, Jagdish Temple is the biggest and most beautiful temple of Udaipur. This temple Appeals to the aesthetic sense of the people and we will further discuss it in our other section. You can also trace a Shrine of Dhuni Mata in the complex of City Palace. This part is considered as the oldest part of the Palace where a sage passed his life meditating here.
In 1974, a part of the City Palace and the 'Zenana Mahal' (Ladies Chamber) have been transformed into a museum. The museum is open for public and we have discussed it in our other section about museums. One can locate some striking paintings in the 'Zenana Mahal' which further leads to Lakshmi Chowk. 'Lakshmi Chowk' is a beautiful white pavilion. In City palace, the most captivating sight can be viewed from the towers and terraces of 'Amar Vilas' from where you can get a breathtaking view of Lake Pichola.
'Amar Vilas' is the highest point of this Palace and has wonderful hanging gardens with fountains, towers and terraces. City Palace is structured in a way that it offers a splendid view of the lake from all its Balconies, cupolas and towers. Unlike the craggy exterior, City Palace has amazing interiors with delicate mirror-work, marble work, murals, wall paintings, silver work, inlay work and surplus of colored glass. The exquisite work of City Palace cannot be bounded in words, so one must visit this palace to capture the real picture of it.