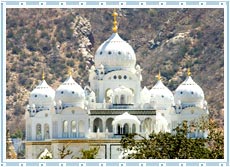 Ambika Mata Temple is a small shrine made in crevice of a rock. The temple dedicated to Goddess Ambika (a form of Goddess Durga). Being located at the village called Jagat in Rajasthan, the temple is also known as Jagat Temple. The shrine is comfortably positioned at a distance of 58kms in the south-east of Udaipur. Built in 961 A.D, the Jagat Temple is renowned for its intricate carvings in the exteriors.
The village Jagat is popular with the term of 'Khajuraho of Rajasthan' and the place is particularly famous for its well-preserved temple of the 10th century. Though Ambika Mata Temple is not very big, but its splendid architecture makes it different from others. The main shrine has an image of Ambika, a form of the Hindi Goddess Durga. The goddess is worshipped as Shakti (Power) that is a primitive source of energy. Goddess Ambika is linked with Maa Durga due to the presence of Lion as her mount.
Dating back to the Pratihara period, the temple comprises an elevated altar. The principal image of the Goddess is placed here. The temple contains a mandapa (columned prayer hall) that has projections on two of its sides and a small loggia in obverse. The hall has windows that are ornamented with beautifully carved panels. The ceiling rises in the shape of a pyramid with the additional alcoves. The loggia is also covered by a shelter.
The doorway of the temple is beautifully carved with exotic etchings, which drape the whole temple with their delicate charm. The ceiling panel of the 'mandap' is carved and decorated with multi-lobed motifs. The prayer hall also comprises a remarkably carved panel of dancing Ganesha. The outstanding architecture of the Temple boasts of various sculptures, ranging from Gods and Goddesses to the dancers and singers of the divine court.
The façade of the Temple has ornamented allegorical panels set in alcoves that depict scenes from the mythological stories. These alcoves contain various forms of Durga with her attendant maidens in aesthetic postures. It is remarkable to find that these sculptures are under the protection of numerous miniature eaves. The outstanding structure of the temple gives the impression of heavenly chamber of the Almighty and is definitely worth a visit.