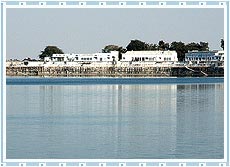 Rajsamand Lake is one of the five popular lakes of Udaipur. Located 66kms in the north of Udaipur, Rajsamand Lake lies between Rajnagar and Kankroli. The lake is also known by the name of Rajsamudra Lake in Rajasthan. Rajsamand Lake was built by Maharana Raj Singh in 1660. Noticing the statistics, the lake stretches to the length of 4 miles and 1.75 miles in width. The lake has the approximate depth of 60 feet.
River Gomti is the main supplier of water to Rajsamand Lake. This lake also boasts of a glorious dam that was built in the 17th century. On the southern end of the lake, the huge embankment is all made in white marble. It has marble terraces and stone steps that touch the waters of the lake. Here, one can also see the five toranas (weighing arches), where Maharana Raj Singh and his descendants organized the event of Tuladan (Kings used to weigh themselves in gold and then distributed it amongst the Brahmans).
On the embankment of the lake, there domicile nine pavilions or 'Nauchowki', which were constructed by Maharana Raj Singh. The beautifully carved pavilions are festooned with pictures of the Sun, chariots, Gods, birds and wonderful carvings. The history of Mewar is inscribed in 1017 stanzas, on twenty seven marble slabs, that are called as 'Raj Prasasti'. It has also been acclaimed as one of the longest etchings acknowledged in India.
If we turn the pages of Historical facts, Rajsamand Lake also made the seaplane base of Imperial Airways during World War II, for over six years. If you are visiting Kankroli, enjoy the fabulous scenery of Rajsamand Lake from Dwarkadhish Temple that is discussed in our section of Temples. While traveling to Kumbhalgarh, you can trace the most amazing site of Rajsamand Lake.
At the time of sunset, the waters of the lake glitter with the startling light of the sun. The vista appears marvelous at this time, when the orange shade of the departing Sun shades the waters of the lake. A quiet walk on the banks of Rajsamand Lake would take away all your stress and tension instantly. You would find this scene, definitely a sight, to behold forever.