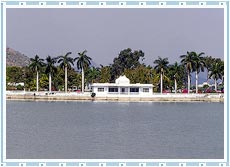 Fateh Sagar Lake is the second artificial lake of Udaipur, the first being Jaisamand lake. Located in the north of Lake Pichola, Fateh Sagar Lake lies just besides the entrance to Moti Magri Hill. Built in 1678 by Maharana Jai Singh, Fateh Sagar Lake got its name from Maharana Fateh Singh, who later made additions to it. Talking about the statistics of Fateh Sagar, the lake extends to the length of 2.4 km, 1.6 km. in width and deep to the extent of 11.5 meter. During the monsoons, the lake covers the total area of around 1 sq km.
Fateh Sagar Lake is well-planned with three intake channels and an overflow channel that is usually brought into play in the rainy season. Fateh Sagar Lake is embellished by three small islands, which can be reached by taking a boat ride in the lake. The largest island of the lake is developed into a park by the name of Nehru Park. The garden comprises a boat-shaped restaurant and a small zoo for children. This island park is the favorite picnic spot of Udaipur dwellers.
The second island is converted into a public park with brilliant water-jet fountains by the Government of Rajasthan. The third island addresses Udaipur Solar Observatory, which is the best solar observing site in Asia. Fateh Sagar Lake is quiet place where people usually come for relaxation and to lighten up amidst the serene waters of the lake. From the bottom of Moti Magri Hill, you can hire pedal boats or motor boats as per your convenience to enjoy a boat ride in the lake.
This pear-shaped lake is encircled by hills, with the exception of its eastern side, where a straight stone dam is to be found. You can enjoy this lake taking its circumference while driving through Moti Magri Road, Fateh Sagar Drive and Rani Road. This twisting route would present stunning views of the lake as well as the encompassing Aravalli Hills. Fateh Sagar Lake is a nice place to explore and tourists certainly come to enjoy the tranquil beauty of this lake.